Increasing environmental pollution and corporate demands and changing government policies have made the packaging industry make a paradigm shift to sustainable packaging. Eco-friendly packaging will help industries reduce their environmental footprint and will also increase brand loyalty among consumers.

Automated packaging equipment distributors now provide retailers and the packaging industry with machines that leave no to less harmful impact on the environment.

Reduce Wastage – It is advised to use reusable, sustainable raw materials for your packaging needs. You can use left-over boxes for storing office documents and equipment. This helps in reducing waste. Embrace simplicity and incorporate creativity in your packaging process. Invest in a packaging design where less amount of material is used.
You can also go ahead with biodegradable packaging where materials like corn-based plastics are used. Do not use the large package to pack a small item, this leads to material wastage. Lastly, train your staff in reducing packaging waste.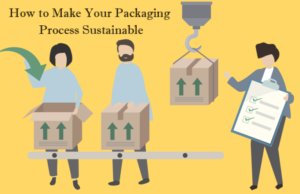 Use Automated Systems
– With automation you can transform your manual business day to day operations, save time, energy and efforts. Automated packaging machines make the workflow efficient and eliminate redundant tasks. Introduce automation in phases so as to make your staff feel comfortable with the new machines. This in turn will help you understand the positive impact of introducing automated systems on the overall productivity.
Fab-Ron is one of the leading automated packaging equipment distributors that provides suitable automation solutions to all clients after identifying their problems. Our high-quality automation equipment are guaranteed to improve productivity and reduce unnecessary expenses.
Rethink the Packaging Materials
– Industries such as electronics, food, textiles, leather, apparel, and paper to name a few are commonly involved in packaging. As a manufacturing industry, they are aware of the causes and consequences the environment is facing due to plastic pollution and the waste materials that enter the landfills and oceans. The need of the hour is to rethink about the packaging materials. They should make a switch from plastic to plant-based plastics, bagasse, stone paper, silberboard (metallised paper), and milk plastic. When you will use such materials for packaging, you will contribute in the preservation of the planet and boost trust among customers, especially those who are environment conscious.
When you adopt a sustainable packaging process, it not only shows your company's commitment to the customer but also your participating in preserving this planet. Initiate sustainable packaging by following aforementioned steps and using automated equipment supplied by automated packaging equipment distributors and set an example among your competitors. You can find such machines @ Fab-Ron.