When it comes to paper – recycle, reduce, and reuse are the vital elements. Along with that, you need to also focus on the printing costs. Every time you use the printer, you not only spend on paper but also on the toner and ink. When it comes to labelling and carton printing, this process can be made cost-efficient by using industrial inkjet printers. The good news is that you can also opt for used industrial equipment to save money.
Following are a few considerations that can make a huge impact on the cost of your carton printing:
Go for Used Industrial Equipment
When you go for used industrial equipment for carton printing needs, you are ideally going for an economical means to fulfill your industrial requirements. When you purchase refurbished equipment and systems, you end up saving up to 40-50% compared to the cost of new systems. At Fab-Ron, we strive to provide each of our customer with best printing equipment and a comprehensive warranty on all reconditioned systems.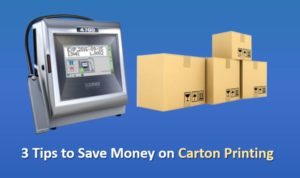 Choose Industrial Inkjet Printers
When it comes to carton printing, it is the responsibility of the manufacturer to make sure that it is highly legible and accurate. This helps in keeping track of the inventory as well as the supply chain management. To address the variety of printing needs and applications arising thereof, Fab-Ron provides a wide variety of industrial inkjet printers in association with Zanasi. These ink-based systems and automatic label application carry out the operations efficiently.
Go for the Right Carton Material
First thing first! Start with the type of carton material you are in need of. The paperboard is available in several grades. Select the one that fulfils your packaging needs, is within your budget and represents your company brand. Buy your paperboard materials in bulk quantity to save a little money. Regardless of the material you choose, make sure it is all recyclable and sustainable to avoid pollution.
At Fab-Ron, we specialize in providing reliable and the best industrial inkjet printers for your product in accordance with your needs and budget. Based on your long-term and short-term requirements, we also provide used industrial equipment which is genuine and company certified.